Disponibile la beta pubblica di DaVinci Resolve 11.0 full e Lite !
|
Multi-user flusso di lavoro collaborativo con l'editing simultaneo, la classificazione e la voce di metadati (Full Version only)
Selezionabile utente migliorata e ottimizzata primo piano e sfondo rendono caching
Completamente nuovo livello Multiple Render Caching comprende punti di cache selezionabili per fonte, i nodi, clip e timeline, gli indicatori della cache su Modifica e pagina a colori di selezione mostra e lo stato di cache e utenti formati di cache selezionabili; ProRes, DNxHD, compresso float 10-bit e 16-bit
Impostazione di progetto per abilitare / disabilitare sfondo render caching
Supporto per l'interfaccia utente di doppio monitor
ProRes certificati da Apple decodificare e codificare con Linux
Estensione quadro OpenFX ad alte prestazioni per il multi GPU OpenCL e CUDA plugin
Supporto GUI per più lingue; Inglese, giapponese e cinese
Utente scorciatoie da tastiera personalizzabili e preset
Auto multipla salvare versioni
Media Page
Strumento clone per schede SD, SSD e unità disco include più clone e checksum destinazione rapporto
Nuova funzione per mostrare o nascondere l'opzione finestra metadati delle clip
Media Pool miniatura dettagli filmato popup visualizza ora di clip frame rate
Funzionamento clip Split sposta automaticamente la messa a fuoco per la clip appena creato
Scarica Davinci Resolve 11 Beta QUI.
Scarica Davinci Resolve 11 Lite Beta QUI.
Information Video
Watch this video for a brief demonstration of just some of the 140 new features in
DaVinci Resolve
11.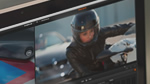 Editing in Resolve 11
Learn more about the new powerful editing features in
DaVinci Resolve
11. This video covers the enhanced multi track timeline, new viewers, new trimming modes, plug-in's and more.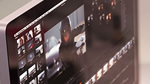 Color Grading in Resolve 11
DaVinci
color correction has been the standard for television and film since 1984. See the new color correction features of
DaVinci Resolve
11 in detail.